Welcome
Welcome to Thinking Feeling Moving, this is a space that brings together different modalities of healing for the mind and the body. Through the modalities of Counselling, Private Yoga Classes and Yoga Therapy Programmes, Lisa can help you to connect to yourself, work with you to move through a challenging time, and heal your body to be the best expression of health. This bespoke service of healing is by design able to fit into your busy schedule.
Counselling

. 

Personal Counselling, Relationship Counselling and Conflict Resolution

is offered online and is available afterhours.

Thinking Feeling Moving is LGBTI+ friendly and sex positive.

 

Private Yoga Classes

 are offered online where you are taken through a 60 / 90 min class online with Lisa. Classes are designed to meet your individual needs on that day.

Yoga Therapy

 sessions are programmes which are individually designed for clients. After a consultation, Lisa creates a specialised filmed yoga class just for you. This class can be downloaded to your device. The programme is updated as your body heals and comes back into balance. Yoga Therapy is an intensive individualised programme to bring your body back into balance in recovering from illness, injury, surgery or if you are requiring a practice and have high needs with your body.
Lisa McGarva
Lisa McGarva B.Ed. Registered Level 2 Yoga Teacher (500 hours) Yoga Australia, Certified Yoga Therapist- International Association of Yoga Therapists (C-IAYT). High School Teacher with the QLD Department of Education and Training since 1998 (as a Specialist Behaviour and Projects Teacher). Presently undertaking studies with the AIPC. Diploma of Counselling due for graduation in 2020.
Hello I'm Lisa. I am the founder of Thinking Feeling Moving. In my first year at University (1998) I struggled with anxiety and depression. This led me on my healing journey where I discovered Yoga. It helped me immensely with my mental health, and I learnt that it also made me feel better in my body. The Teacher in me was compelled to share this knowledge to help others with their mental health and physical health. In 2011 I opened Laughing Lotus Yoga teaching yoga, and then became a Yoga Therapist while I was also Teaching as a Behaviour Specialist with the Department of Education. I have continued to study and am happy to be able to offer Counselling to clients online at the end of 2020. Mental health and physical health go hand in hand with each other. It is my passion to be able to share my knowledge and skills to help people with theirs. Stiff bodies and absolute beginners are very welcome! Thinking Feeling Moving gives people direct tools to be in better physical and mental health.
These days I do a lot of travelling which is why I have moved my services online. The benefits of this is to you is that you get to have a high level of specialised service at your convenience. You can practice yoga with me in real time on your device, or you can work on a programme which I have designed for you (filmed and saved on your device). Or you can book in for Counselling sessions with me after hours, so you are not missing time off work.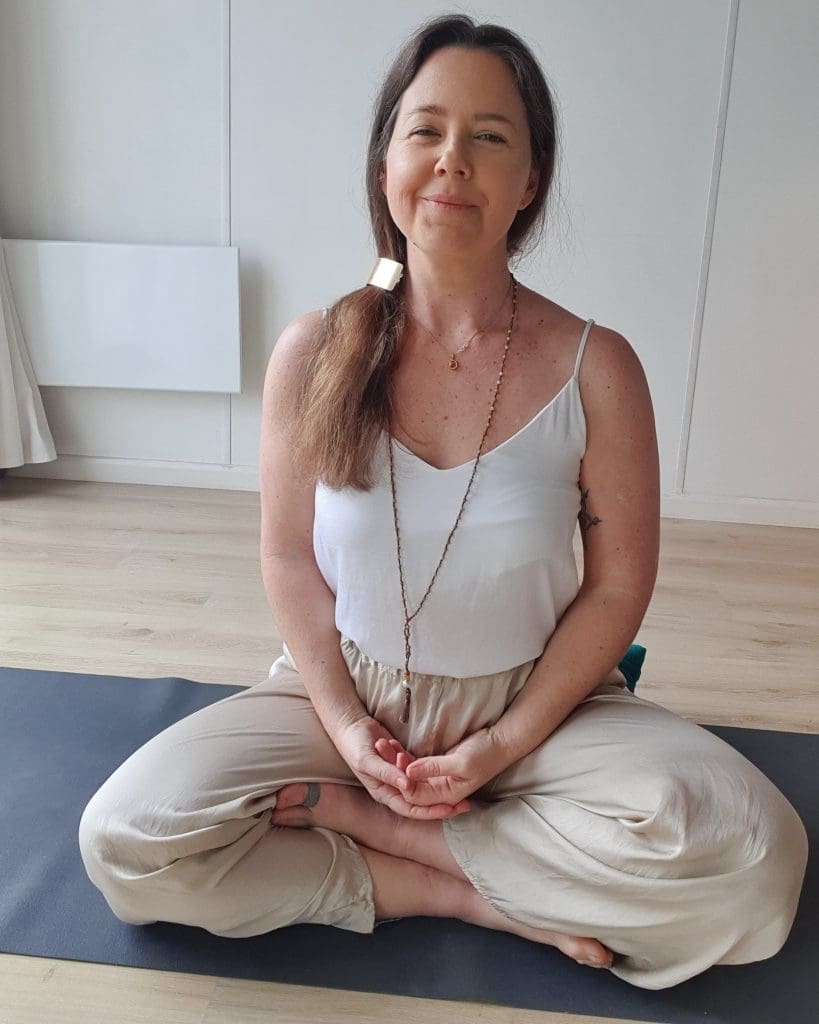 "I began practising yoga with Lisa when she offered a corporate class at my workplace in 2012. The course went for 8 weeks and I realised during the course that the way Lisa taught yoga resonated with me and that I would have to continue on my yoga journey with her. I joined her community classes from then on and have continued to gain the wonderful benefits of yoga, much knowledge and healing through her caring and personalised approach to teaching yoga. Over the last two years I have also joined her meditation group. This has been extremely transformative for me within my life. I am so grateful to Lisa for sharing her knowledge and guiding me through my yoga and meditation practice and look forward to continuing my journey with her. Namaste."
"What does it take to find that rhythm of routine we are so often promising ourselves to change our lifestyle? It was late at night with all the excitement of heading overseas on the trip of a lifetime that simply passing my husband a bag was the beginning of a shoulder injury. It would be some time into the trip before the injury began to give my problems but by the time I returned home it would become apparent I had a frozen shoulder. I would soon come to learn that there would be no quick fix for what had become a very painful and debilitating problem. Looking back now, I can only thank my frozen shoulder for it led me to attending a yoga therapy session, yoga and meditation classes with Lisa at Thinking Feeling Moving. From the very beginning, Lisa's gentle approach to my injury was a relief but it was her holistic approach that would set me on a course to gain the insight into understanding the benefits of daily yoga and meditation practice. I found Lisa to be realistic and she encourages you to set your own time limits for what you feel is achievable. Lisa offers guidance in not only yoga and meditation techniques but also in all areas of improving your lifestyle, including diet. She also follows up with emails and reading material that encourages and supports you to help you achieve your goals. Lisa's approach worked for me and I found the discipline I had long been seeking to make that change. Why not give Lisa a try and help make that change stick."Karen
"Because of recently diagnosed low bone density & chronic fatigue many years ago I have been treated with Western Medicines. Since then I have developed a network & community of friends who have brought me to Lisa's classes. Lisa has encouraged each of us to set our intention to where we wish to be & along with gentle guidance incorporating our Practice with nutrition, meditation & mindfulness. For me, it has set a new direction raising my awareness & allowing me to focus on what I can do to improve my condition. Unknowingly my recent full body scan has shown an increase in my Bone Density…love you Lisa!"
"I've struggled with a back injury for the last 16 yrs. One whole year of one on one Yoga Therapy sessions with Thinking Feeling Moving and now I'm in the best physical health I've ever been! Thank you Lisa."
"My post yoga therapy experience, effects & reflections confirmed and highlight how much I gained from a 2 hour investment in time, $ and practice in a yoga therapy assessment with Lisa McGarva. I highly recommend that others make such a sound choice to experience and benefit from the gifts of Lisa's insightful, elegant and keen observations to notice what in our yoga practice needs naming, adapting and aligning. The effects from Lisa's yoga session enable myself to re-script my yoga narrative as a means of transforming myself through a personalised, tailored daily yoga practice."
"Through yoga therapy, severe stress-related neck pain that troubled me for more than 8 years has dissipated, along with a lot of other body tension! Equally remarkable has been the inner transformation I have experienced…calm, groundedness and clarity, even in the daily intensity of my work as a midwife. With warmth, sincerity and gentle honesty Lisa has led me in discovering a way to nurture my body daily. I am so thankful."
You might like to learn a little more about me on LinkedIn or get in touch via one of the channels below.