If you would like to place a booking, proceed to the bookings page.
Select the service you would like to book along with a suitable date and time.
Enter your details and accept our terms and conditions.
Click the book button to submit your booking request.
You will receive three emails. One showing your requested booking time with a calendar invitation, and another to complete the payment securely. Lastly, you will receive an email with some forms to fill out and return prior to our session.
5. Follow the secure payment link to complete payment for your booking. Your booking is not confirmed until your payment has been received for paid services. Unpaid bookings will be cancelled. Payment is required at a minimum 48 hours prior to your session.
Once your booking is confirmed, you will receive a reminder email 24 hours before your appointment and another email immediately before.
Under the section for Add your details:
Please let us know if you have any special requests (such as needing a 90 min or live captioning in your session due to language challenges, disability, neurodiversity).
I have a 48 hour cancellation policy.  If you cancel your session within 48 hours, full payment for your session is still required.  Clients have the ability to reschedule sessions to a better time/day outside of the 48hour window.  Bookings can be managed by clicking on the purple 'manage my booking' link on the booking confirmation email.
You will be asked what currency you would like to pay in on the payments page: AUD, EURO, USD, GBP.
When paying in these currencies you will not incur a conversion fee.
Please see the table at the bottom of this page for fees in your preferred currency.
Clinical Sexology +Relationship Therapy + Counselling Investment
Free 30 min consultation for Clinical Sexology + Relationship Therapy + Counselling (new clients)
This is time for us to meet, have an online chat and get a sense as to whether or not we are a good fit for each other. It is not a therapy session. Upon booking in for this session at a time of your choosing, you will get an email from me to fill out a couple of short forms. This helps me to understand a little more about you and to make the most of our time together. These forms are confidential, and if you choose not to go ahead with therapy within 2 weeks of the initial online chat they will be destroyed for privacy and confidentiality.
Clinical Sexology + Relationship Therapy + Counselling 1:1 60 mins
Online 1:1 therapy for treating sexual function and relationship problems. Clients who book this service have previously had a 30 minute Free consultation with Lisa.
Clinical Sexology + Relationship Therapy + Counselling 1:2 / Multiple Partner Therapy 60 mins
Online 1:2/ multiple partner therapy for treating sexual function and relationship problems. Clients who book this service have previously had a 30-minute Free consultation with Lisa. Each client will dial in from their own device during sessions, and have submitted their own pre- therapy forms seperately.
Free 30 min consultation for Yoga Therapy (new clients).
This is a time to meet each other and have a chat about what your needs are so your yoga can meet your needs. You can decide if you'd like either a Yoga Therapy Programme, or Private Yoga Classes. Upon booking, a Yoga Waiver & Disclaimer form will be sent to you which should be filled and returned. This document is confidential.
Yoga Therapy Assessment and Programme 60 mins.
Lisa conducts an online assessment of your individual needs through questions, observations of movement, breath, posture, balance and strength. After the session Lisa designs an individualised programme specific for your body. You will be sent a private link to your own specialised yoga video programme of Lisa guiding you through the practice. There is an expectation that you do the programme every day for results. This is an intensive practice to bring your body back in to balance. Programmes are then updated when you are ready. Lisa guides you on your healing journey. Clients who book this service have previously had a 30 minute Free consultation for Yoga Therapy.
Lisa guides you through a real time yoga practice for what your body is needing in THAT moment on THAT day. Your body and mind is continually changing, so your yoga practice should reflect this. The class can be Hatha, Yin/ Restorative Yoga, focus on breathwork, or guided meditation such as yoga Nidra. Clients who book in for this service have previously had a 30 minute Free consultation for Yoga Therapy with Lisa so she knows of adjustments that need to be taken into consideration for your practice.
Yoga class drop in 60 mins.
Community Yoga Classes where we are in the same country as each other. Please pay here and show your receipt of payment upon attending the class.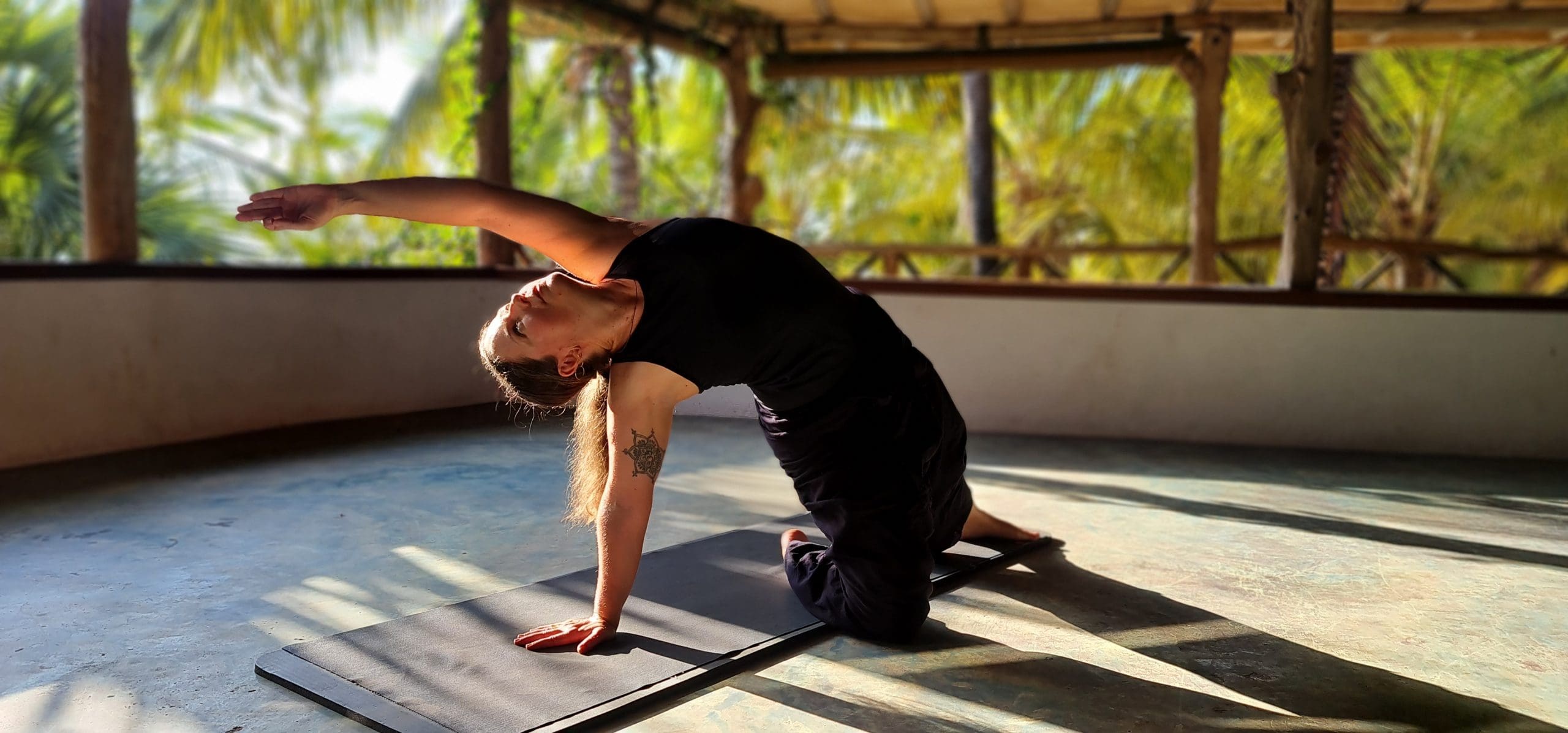 Local Currency Fee Schedule
Thinking Feeling Moving is registered as a Sole Trader with the National Business Register (United Kingdom) no. 2300152 .  Thinking Feeling Moving practices under UK law, and is bound by jurisdiction of English law, under which any disputes would be subject.  I follow codes of practice from memberships of COSRT, ACA, QCT, IAYT, YA., ASA   Thinking feeling moving holds public indemnity insurance to work globally both in person and online. I am unable to provide a service to those who are in a country of which there are sanctions placed upon from the UK Government.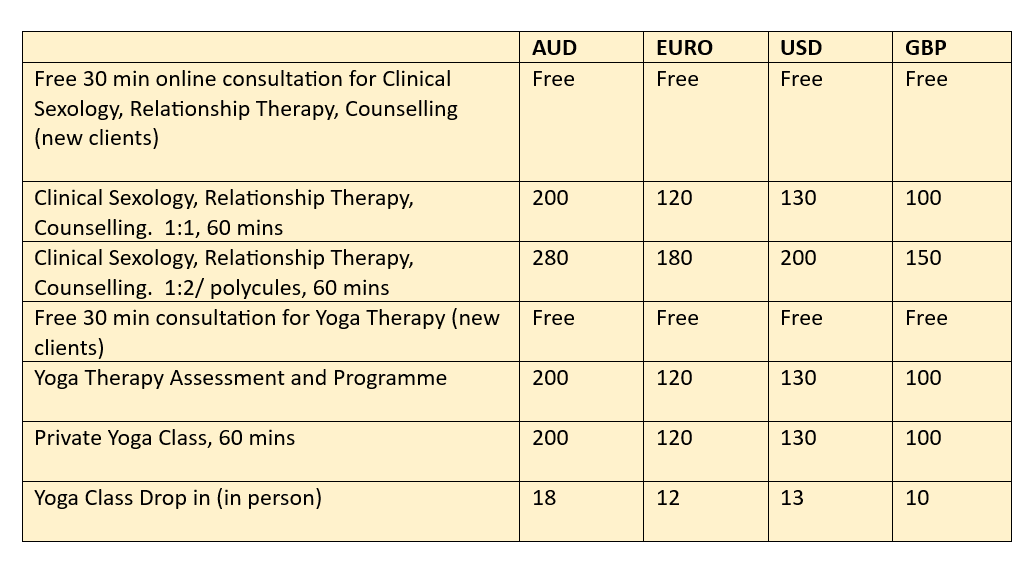 Karma Yoga is the yoga of an unselfish action. It is in a sense conducting a duty of putting good energy into the world selflessly and without ego. As a part of my Karma Yoga, I often offer my services pro bono to clients who are in need yet are unable to afford to pay.
This is Babushka Tonia. I never met my Husband's Grandmother, however she is a large inspiration for me. She survived both world wars, Stalin's repression, loss of family and being sent to a Gulag unjustly arrested. Throughout all this time she lived by the belief that you always help people who are in need. Helping others makes the world a better place and gives purpose in your own life even in the darkest times. She touched many people, and her teachings through practice passed on down through the family. She was an incredible Karma Yogi.
If you are unable to afford to pay for a session yet are in need of one of my services, please reach out to me and we can have a chat. I always have 2 spaces pro-bono for clients who would like to access my services and are presently not in a position to pay. Clients in this programme will be offered 10 sessions. There may be a waiting list.
Occasionally clients who have finished their therapy journey with me have felt quite moved and have felt the need to 'give back'. If this is you, you might like to 'pay it forward', whereby you may choose how many sessions of which type of therapy you would like to offer a client in need who is not in a present position to pay.
Lisa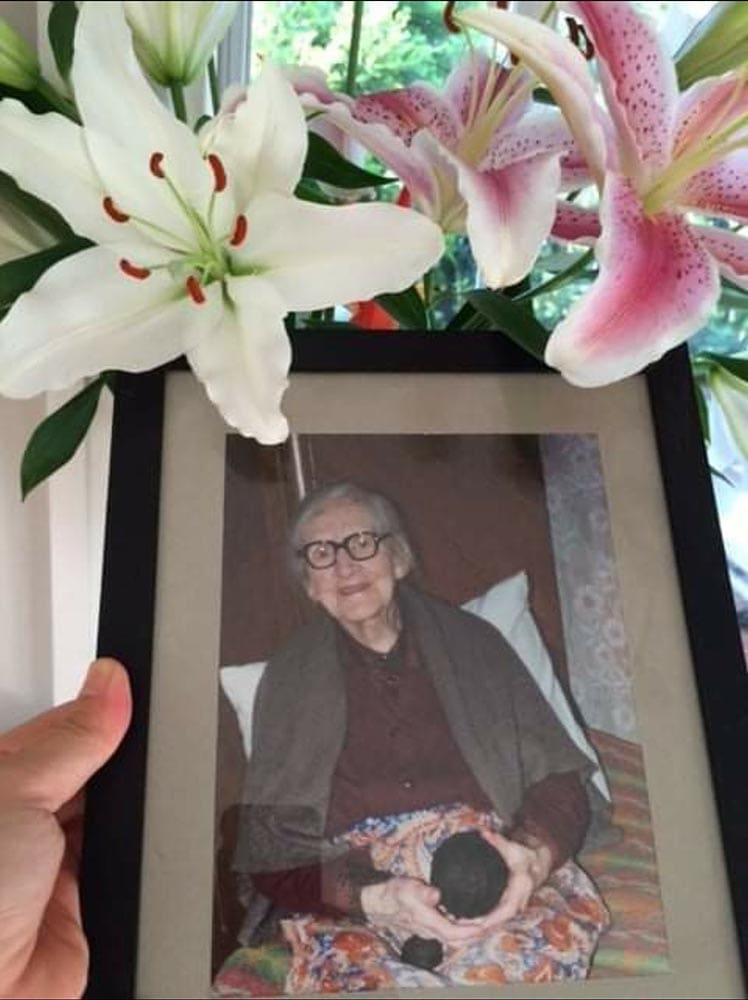 You might like to learn a little more about me on
LinkedIn
or get in touch via one of the channels below.